Inspiring, empowering & transforming children's lives through healthy choices & lifelong learning!

---

Promoting healthy eating, active living, multiculturalism and family engagement!

---

Helping strengthen and build healthy, vibrant & inclusive schools & communities!

---
WELCOME
| | |
| --- | --- |
| | ActiveChefs is a Canadian not-for-profit organization promoting health and well-being of children. Our programs empower children to make healthier lifestyle choices through experiential learning, highlighting healthy eating, nutrition, cooking skills, multicultural-food education, active living & daily physical activity. Our initiative addresses critical issues like child nutrition, obesity, poverty, hunger, self-sufficiency, food security and serves vulnerable and under-served neighborhoods. Volunteer engagement and fundraising enables us to offer free & subsidized programs so that everyone has an equal opportunity to participate and learn important life skills. In our existing & new programs, we incorporate components that highlight the importance of healthy living using awareness, education, experiential learning and participation. Multicultural experience with foods & music from around the world enriches & energizes participants and celebrates diversity. We host special events, challenges & campaigns to engage parents, families, our partners and to support community building! |
| | |
| --- | --- |
| Childhood obesity is now a crisis in Canada and is threatening our children's future and the future of our nation. One in four adult Canadians and one in ten children are clinically obese and almost one in every three children in Ontario is now an unhealthy weight. Teens are developing coronary-artery disease and children under age 10 are being diagnosed with type 2 diabetes. An estimated one in seven children and youth live in poverty in Canada and may not be getting nutritious food. If our children are not healthy, then our society will not flourish. We believe that early healthy living initiatives can make a difference in promoting the health and well-being of children and help improve quality of life and decrease pressures on the health care system. ActiveChefs continues to support and build a strong foundation for children to embrace a healthy and active lifestyle and help kids succeed and make healthier choices throughout their lives. Our program provides practical hands-on experience that positively influences behavior change and fosters lifelong learning. | |
---
"
I was very impressed how this program tackles all aspects of healthy living. It not only empowers children to make healthy choices by providing them with the tools they need to create their own meals but also addresses the importance of physical activity. It was great to see the kids enjoying themselves and I would love to see this initiative implemented in all schools across Canada! Keep up the great work!"
-- Kyle Jones, Professional Triathlete & Canadian Olympian
---
"Thanks for making a difference within the Central Public School Community."
-- Margaret Napier, Principal, HDSB

"You are delivering a vital service and there will be a whole
generation of children who know
how to cook because of your work."
-- Breakfast for Learning

"I was delighted to hear of your program and will enthusiastically endorse it with my patients & contacts." -- Pediatrician

"I strongly believe that a continued partnership with ActiveChefs is a great opportunity to help children adopt a healthier lifestyle, appreciate diverse cultures and benefit our community."
-- Malerie Borbath, HDSB Principal
---
Healthy Eating + Active Living = Healthy Kids = Better Learners = Brighter Future = Better Quality of Life = Stronger Communities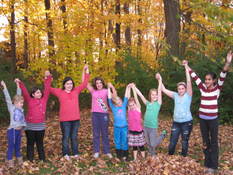 Research shows that health & education success are intertwined and healthy patterns in childhood & adolescence promote optimal child health, growth and intellectual development. ActiveChefs programs are fun & engaging experiential learning opportunities, teaching kids the fundamentals of good health and helping them make right choices. Connected to the curriculum, the program teaches students important life skills and addresses related study topics & themes. The program also impacts student engagement in a positive way and encourages quality family time.
​
​It's easy to participate … our programs are mobile, safe, supervised, accessible and inclusive ...
all our in-school, after-school, outreach programs are subsidized and completely free for those in need ...
and we are in your neighborhood schools and communities!

---
---
"Great program teaching healthy active living."
-- Karina Gould, Member of Parliament, Burlington


"Your experiential learning and engaging programs are truly making a positive impact
in our schools and community." -- Eleanor McMahon, MPP, Burlington


"Supporting a healthy lifestyle and educating residents about the benefits of
healthy living is one of the best things we can do as a community."
-- Indira Naidoo-Harris, MPP for Halton


"This is a great program that teaches kids about active, healthy lifestyles and culture through cooking and activity. It was a pleasure to meet with the kids and learn about
the excellent opportunities this program is providing for kids."
-- Mayor Rick Goldring, City of Burlington


"I had the good fortune to observe directly the impact the ActiveChefs program
has on some of our students. It's a tremendous asset to our students and
does much to support the work of the teachers and schools."
-- Stuart Miller, Director of Education, HDSB


"Thank you for providing this life-skill enrichment program for children and their families to learn about healthy lifestyles and culture through the activity of preparing food."
-- Mayor Gordon Krantz, Town of Milton


Expansion in Peel Region: L-R: Miranda Murphy (VP, PDSB), Supt. Rob Ryan (Peel Regional Police), Councillor Chris Fonseca (Mississauga), Aman Jaspal, Trustee Sue Lawton (PDSB), Kapil Jaspal

"Your dedication to promoting health and well-being of children has truly made a positive impact on the Ward 3 Mississauga schools and community."
-- Chris Fonseca, Councillor, City of Mississauga


L-R: Founding Member Kapil Jaspal, MPP Kevin Flynn, Halton Regional/Oakville Councillor Cathy Duddeck, Oakville Mayor Rob Burton, OTF's Bill Allison, Founding Executive Director Aman Jaspal, Chair Pat Barr

"ActiveChefs are a very deserving recipient of this Ontario Trillium Foundation grant. This grant will assist ActiveChefs grow their program to serve more in our community and continue to raise awareness of the importance of making healthy living choices."
-- Kevin Flynn, MPP Oakville



"The Halton Region Community Investment Fund was established to support
important initiatives such as the ActiveChefs program. This program contributes to
the health of our community by teaching children and youth to prepare healthy foods
and make healthy decisions about nutrition and active living. Healthy choices today
leads to healthy choices in the future which help to keep Halton a great place to
live, work, raise a family, and retire." -- Gary Carr, Regional Chair, Halton

"Congratulations on this timely initiative. Our students will learn ways of
preparing nutritious meals, thus encouraging a lifetime of healthy eating."
-- Diane Rabenda, Trustee - Milton / Chair, Halton Catholic District School Board


"Your programs are a welcome addition to our school, as we have a number of students whose families face many challenges in terms of encouraging healthy life choices, as a result of their economic situation." -- Dan Forgione, Principal, PDSB


"I was very pleased to participate and learn that this program is in many of our schools and
will expand to others in the future. This is definitely a worthwhile program for the children."
-- Alice Anne LeMay, Oakville Trustee & Chair of HCDSB


"ActiveChefs' free after-school program provided education and engagement needed
for children and families in our school community, removing barriers to participation.
The program has had a very positive impact on the students, who enjoyed learning about different cultures while making traditional foods and taking part in active play."
-- Trevor Demeris, Principal, HCDSB